Introduction
Phantombuster has been a game-changer in the realm of no-code automation. Whether you're a marketer, an e-commerce entrepreneur, or someone who's just looking to automate their online activities, Phantombuster offers a plethora of options. In this comprehensive review, we'll delve into its features, pricing, and how it stacks up against competitors.
Phantombuster is a no-code automation platform that allows you to scrape data, automate social media tasks, and much more without writing a single line of code. It offers over 150 types of automation tools, known as Phantoms, that can be used across various platforms like LinkedIn, Instagram, Twitter, and Google.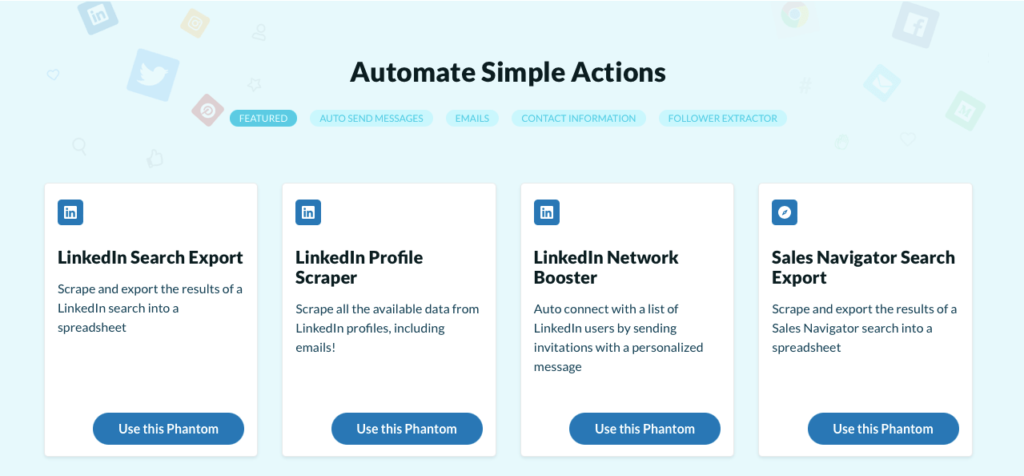 Key Features
Data Extraction
Phantombuster excels in data extraction. You can scrape LinkedIn profiles, Instagram hashtags, or even Google search results effortlessly.
Social Media Automation
From auto-liking posts on Instagram to sending connection requests on LinkedIn, Phantombuster has got you covered.
Workflows
Phantombuster offers ready-made workflows that combine multiple Phantoms for more complex tasks, such as growing your LinkedIn network or automating Google Maps searches.
How Does Phantombuster Work?
Sign Up: Create your Phantombuster account and choose a subscription package.
Select Phantoms: Browse their Phantom Store and pick the ones you need.
Set Up: Connect your social media accounts and configure your Phantoms.
Launch: Choose between manual or repeated launches.
Analyze: Download the results in CSV or JSON format for further analysis.
Is Phantombuster Safe?
Yes, Phantombuster operates within the guidelines set by each platform, ensuring that your accounts are not at risk of being flagged or banned.
Pricing
Phantombuster offers three pricing plans:
Starter Package: $56/month, ideal for beginners.
Pro Package: $128/month, best for growing businesses.
Team Package: $352/month, designed for large teams and agencies.
Phantombuster vs Competitors
Phantombuster vs Hexomatic
Hexomatic is more affordable but lacks social media automation features.
Phantombuster vs Octaparse
Octaparse is great for data scraping but doesn't offer engagement automation like Phantombuster.
Phantombuster vs Apify
Apify is more expensive and offers a broader range of features, but Phantombuster excels in social media automation.
Pros and Cons
Pros
Comprehensive social media automation
Easy-to-use data extraction tools
Ready-made workflows for quick setup
Cons
No free account available
Limited integrations
A learning curve for setting up Phantoms
Final Thoughts
Phantombuster is an excellent tool for anyone looking to automate their online activities. Its range of features and reasonable pricing make it a valuable addition to your marketing stack. With a 14-day free trial, you have nothing to lose by giving it a try.